Vouchers can be used in a wide variety of loyalty schemes which makes them one of the most versatile additions to the loyalty tools.
1. How do vouchers work?
Your customers can earn a voucher through a variety of loyalty schemes including:
Vouchers can be single-use, such as the ones earned when completing a stamp card, or multi-use, for example when purchasing a bulk-buy in-app purchase, which means customers will be able to scan their voucher more than once.
2. Where are vouchers located in the app?
Vouchers can be found in the wallet section of the app. Customers simply have to tap on the Wallet icon in their navigation bar and swipe left past the payment QR code to access their voucher carousel.
Customers can access the terms and conditions of the voucher by tapping on the voucher.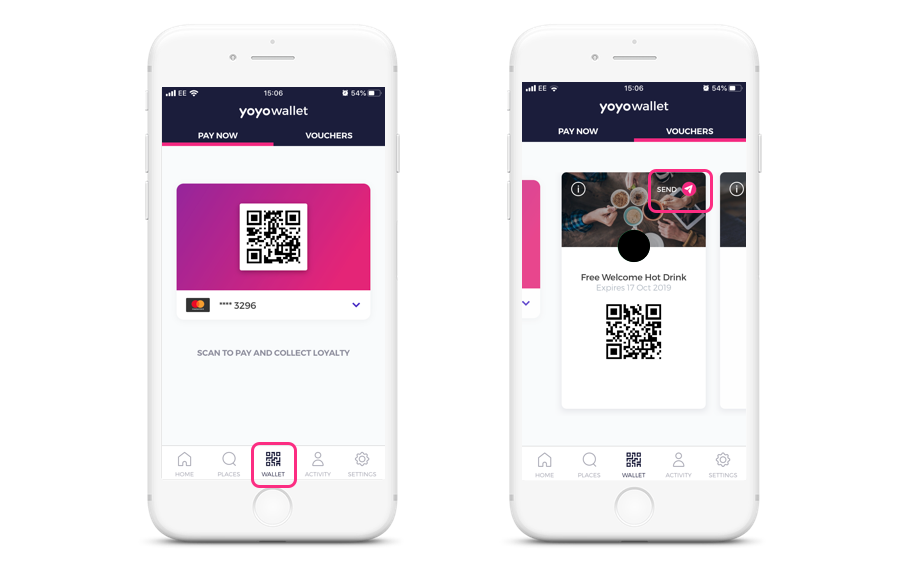 They can share their voucher by clicking on the aeroplane icon on the corner of the voucher. All vouchers except unlimited use vouchers can be shared.
3. What are the different types of vouchers?
There are 3 types of vouchers you can choose from when creating a voucher.
a. Free Item
This is the most commonly used voucher type. It will provide 100% discount to an eligible item when scanned at the till. This is great for Stamp Cards, Point Rewards and Welcome Promo Codes.
b. Discounted Item
This voucher reduces the cost of an item at the till. When a customer scans their voucher, your EPOS will automatically apply the discount to the qualifying item. Discount vouchers are a great way to promote a new item or a range of items (e.g. 20% off our New Lunch Menu).
Discount vouchers can be earned through any of the loyalty schemes listed above in section 1.
c. Meal Deal
Our Meal Deal voucher allows you to create a fixed meal deal combos that ultimately increase the average spend of your customers.
This voucher type allows you to include more than 1 product groups in the voucher, which means a customer will need to have more than one eligible item in their basket for you the voucher to work. For example, a Lunch Meal Deal voucher including a sandwich, snack and drink. The customer will need to purchase a product from each category for the voucher to be successful.
You can also choose whether this voucher provides a discount on these items of 100% or lower or for the price to be reduced to a specific amount.
We recommend you set up Meal Deal vouchers as an in-app purchase although they can be earned via other loyalty schemes.
d. Points to Pounds
Our points to pounds vouchers allow your customers to exchange their points for vouchers which have been assigned a monetary value. For example, your customers could exchange 2000 points for a £2 voucher that they can later use to redeem any item they want.
Currently, these vouchers can not be created via the Voucher Builder in Engage. If you create these vouchers please contact us at partnersupport@yoyowallet.com. We may also need to check that your EPOS provider supports these types of vouchers.
IMPORTANT THINGS TO NOTE:
Please check with your EPOS provider that discount or monetary vouchers are supported, these options may be greyed out in the Voucher Builder if they have not been tested on-site. If you would like to set up a discount voucher, contact partnersupport@yoyowallet.com or talk to your CSM.
We do not recommend using multiple vouchers of different types in one transaction as this may cause errors at the till.
If you want more information on any of these voucher types please get in touch at partnersupport@yoyowallet.com.
Recommended Reads:
How to build vouchers in Engage
Voucher Expiry Types
Trouble Shooting Guide