1. What are in-app stamp cards?
An in-app stamp card works the same way as a paper stamp card when customers make qualifying purchases, they will earn a stamp. However, this is automated and allows for accurate reporting directly into your Engage Dashboard.
Stamp cards offer a lot of flexibility as you can decide the items that are included in the stamp card as well as the number of stamps needed to complete the stamp card.
Once the stamp card is completed, a voucher will be automatically added to your customer's carousel and the stamp card will reset.
2. In-app stamp card benefits.
Stamp cards are a great way to win your customers' loyalty while they also present many operational benefits.
Winning customer loyalty
Win your customers' loyalty by rewarding them every time they make a qualifying purchase and ensuring they visit you regularly to ultimately complete a stamp card and earn a voucher. In turn, this allows you to increase customer footfall in-store.
By setting up your own stamp card you can incentivise customers to choose a particular product. Typical examples include Hot Drinks stamp cards, however, any item(s) can be featured on stamp card and be part of your loyalty offering.
Operational benefits
The entire end-to-end process is automated from the moment your customers make a purchase to when they earn a voucher. This means that customers no longer have to carry a paper stamp card while cashiers no longer have to manually stamp those. All your customers need to do is scan to earn their loyalty.
You will have access to your stamp card reports in your Engage Dashboard and see how your stamp card is performing, the number of vouchers that were earned and the number of vouchers that were redeemed.
In-app stamp cards provide an eco-friendly alternative on paper cards and in turn cut down on production costs.
3. Examples

We recommend that you offer your customers a varied set of stamp cards to maximise the above-cited benefits. Here's a couple of examples:
Hot Drinks
Soup
Porridge
Smoothies/Juices
Pizzas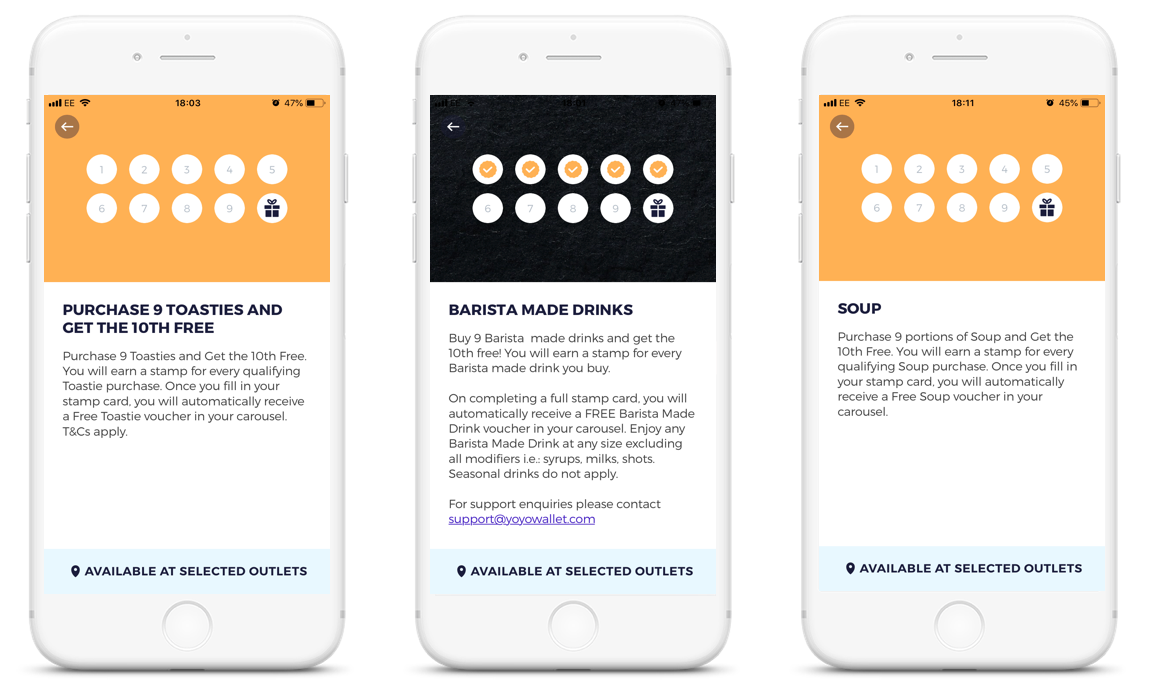 Recommended Reads:
Build your Digital Stamp Cards
Stamp Card Performance
What are PLUs?