Prize Draws, also known as Gamified campaigns, are designed to motivate participation, engagement and loyalty within your app.
This post-transactional marketing category is designed to instantly reward your customers with the opportunity to win prizes when they complete a purchase.
What is a Prize Draw Campaign?
Prize Draw Campaigns offer your customers a chance to instantly win from a pool of selected prizes after transacting in one of your stores.
Here's how it works:
Customers first purchase a qualifying item through the Yoyo app, and get the opportunity to interact with the campaign.

The campaign-qualifying items are chosen by you when setting up the prize draw (e.g. hot drinks, portion of chips, etc.), and customers will only be able to spin the wheel after purchasing the items you chose.
Once the payment is complete, the spinning wheel instantly appears on the customer's phone.

All they have to do is to shake or tap their phones to spin the wheel, and find out if they won anything.
If it's a "WIN", the winning message and the prize appear. The prize is instantly added to the customer's profile, and recorded in the activity tab (last image).

It is up to you to choose how many and what type of prizes (detailed in the below section) you want to offer.

Bear in mind that the number of prizes allocated to the campaign is fixed, and not set up as a % of transactions.

You can always add prizes to the count, but not reduce the number you initially chose. The prizes are then randomly distributed.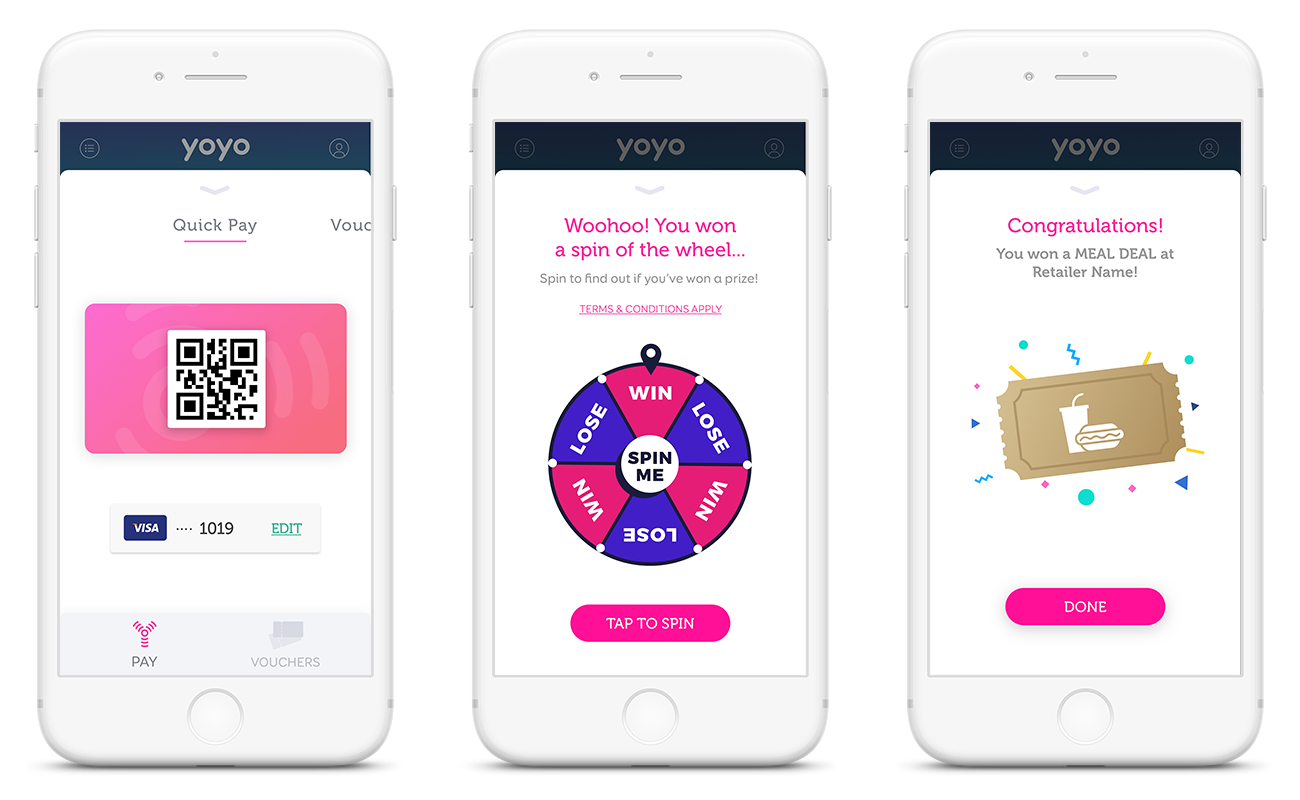 If it's a "LOSE", the losing message is displayed. We recommend to keep them engaged with entertaining phrases and encourage them to come back and try their luck again!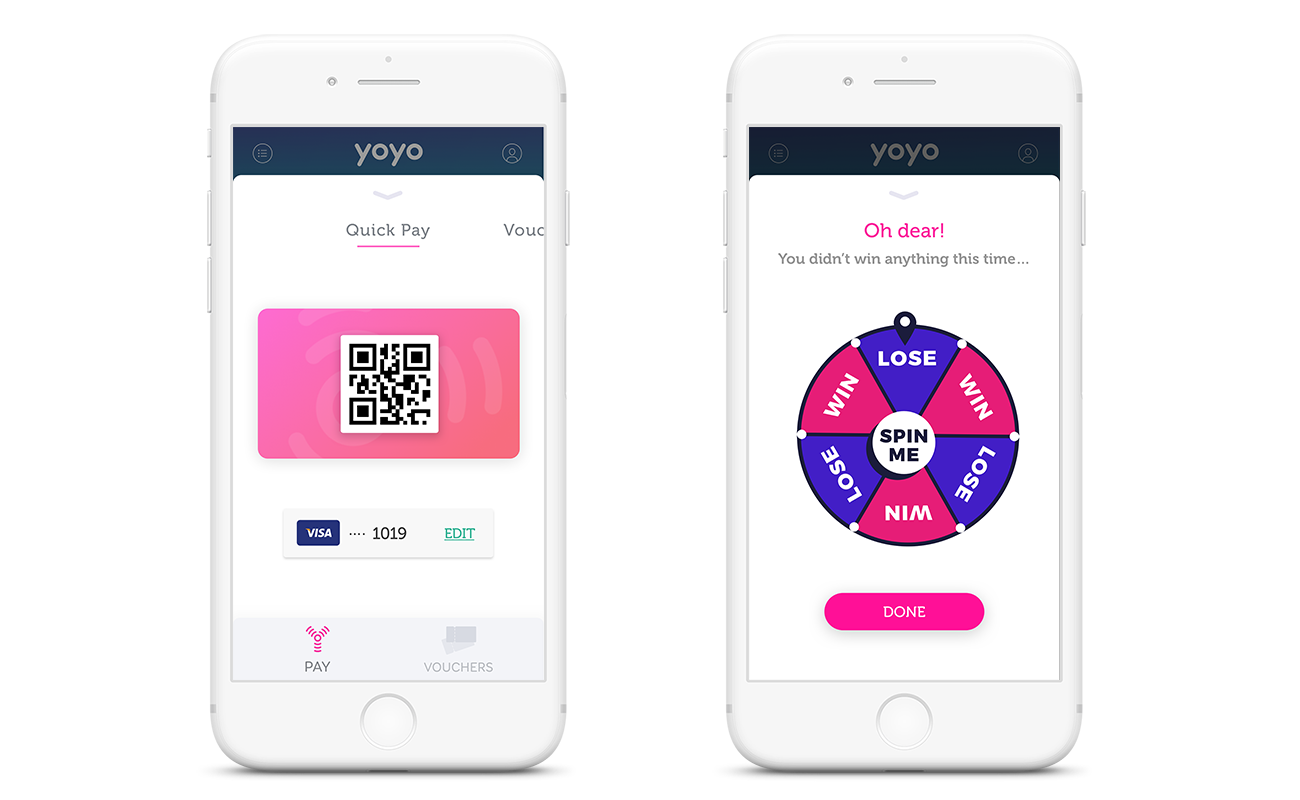 If customers close the app without spinning the wheel, an in-app message will be displayed reminding them to participate in the game. After having played, the activity is recorded in the activity feed.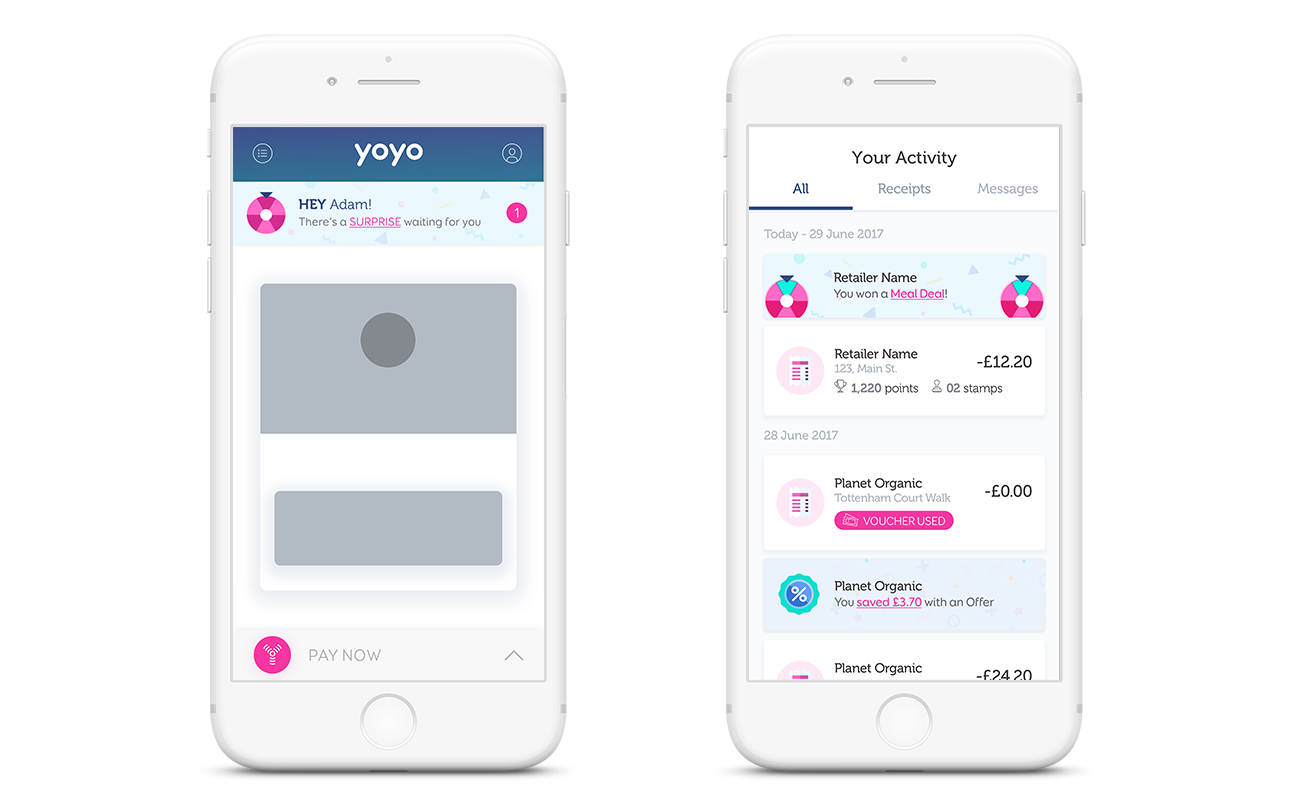 Why should I run a Prize Draw Campaign?
Prize Draw campaigns can improve your business metrics by:
Increasing sales
Increasing customer engagement
Hype and social media engagement
Driving product adoption
Rewarding loyal customers

What prizes can I offer?
Some examples of prizes you could offer:
Vouchers
"Purchase a latte, porridge and fruit bowl for £5"
"You've earned 50% off on your next 3 iced drink purchases"
"Thanks for your loyalty, to show how much we value you,
here's a complimentary Pimm's!"
Stamps
"Here's 4 bonus loyalty stamps"
"Next time you purchase a breakfast item we'll give you 3 bonus loyalty stamps"
"You've earned a 2 bonus stamp on any purchase you make for the next week"
Points
"Well done, you've won 1000 bonus loyalty points"
"Visit us on any weekend over the next month and earn 2000 loyalty points"
"For every purchase you make in the next week we'll give you 100 bonus loyalty points"
Grand Prize
Create more hype by offering a grand prize to one lucky customer:
"Woohoo, you've won the ultimate prize of free coffee for 1 year!"
"Congratulations! You are our lucky customer! You've earned yourself a free pint every Friday during the World Cup!"
How Prize Draw Campaigns Increased Seasonal Sales for Caffè Nero
To increase customer engagement during the Christmas festive period, Caffè Nero in partnership with Yoyo launched a prize draw marketing campaign which rewarded their customers with prizes every time they purchased their usual hot drink.
When a customer purchased a hot drink, they received a digital Christmas Cracker and had a chance to win tonnes of prizes including unlimited coffee for one year.
The following results were observed:
+50% Total Sales
+30% Unique Customers
+13% in Average Spend Per User
+30% in New App Registrations

How do I setup a Prize Draw campaign?
Contact your CSM or partnersupport@yoyowallet.com to launch this marketing campaign.
Note: If you require bespoke in-app imagery to run this campaign, it is subject to further commercial discussion and lead time approval.