Yoyo's dynamic customer segmentation tool enables you to create the most targeted, personalised campaigns that are uniquely based on how your customers behave and spend in real time.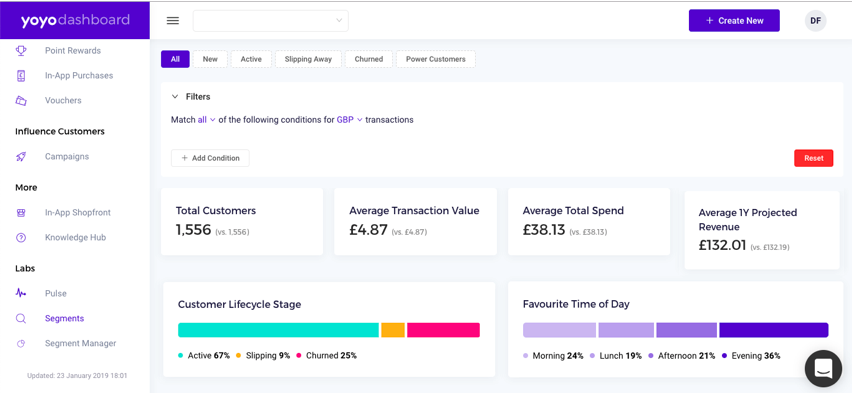 What is Customer Segmentation?
Segmentation is the process of filtering your existing customers into groups (or segments), based on a variety of characteristics so that marketers can better target their campaigns.
But instead of overly-broad blanket groups usually found on traditional CRM platforms, Yoyo enables you to dynamically cross segment customers based on real-time behaviour that actually matters, whether it's spend, frequency, product groups, or lifecycle stage.
Not only does this tool enable you to identify anything from who your most valuable customers are to when they are beginning to slip away, you can create segments that will dynamically respond to changing behaviour, giving you the ability to deliver hyper-targeted campaigns that your customers are most likely to respond to.
Why is Customer Segmentation so valuable?
In an instant, Yoyo gives you a full (anonymised) behaviour profile for every customer, which enables you to identify and analyse:
Purchased item(s)
Time and location
Changes to purchase frequency
Product combinations
Previous engagements with marketing and loyalty campaigns
With this data, you can run marketing campaigns to target the most responsive customers, analyse customer lifetime cycle*, and crucially focus on long-term customer lifetime value (CLV)** impact.
How can I create customer segments in Engage?
Once you're on the 'Segments' page, you can filter conditions by a variety of attributes.
For example - you could create a segment that shows customers who prefer to visit your stores at lunchtime by choosing:

This would give you a result that would look something like this: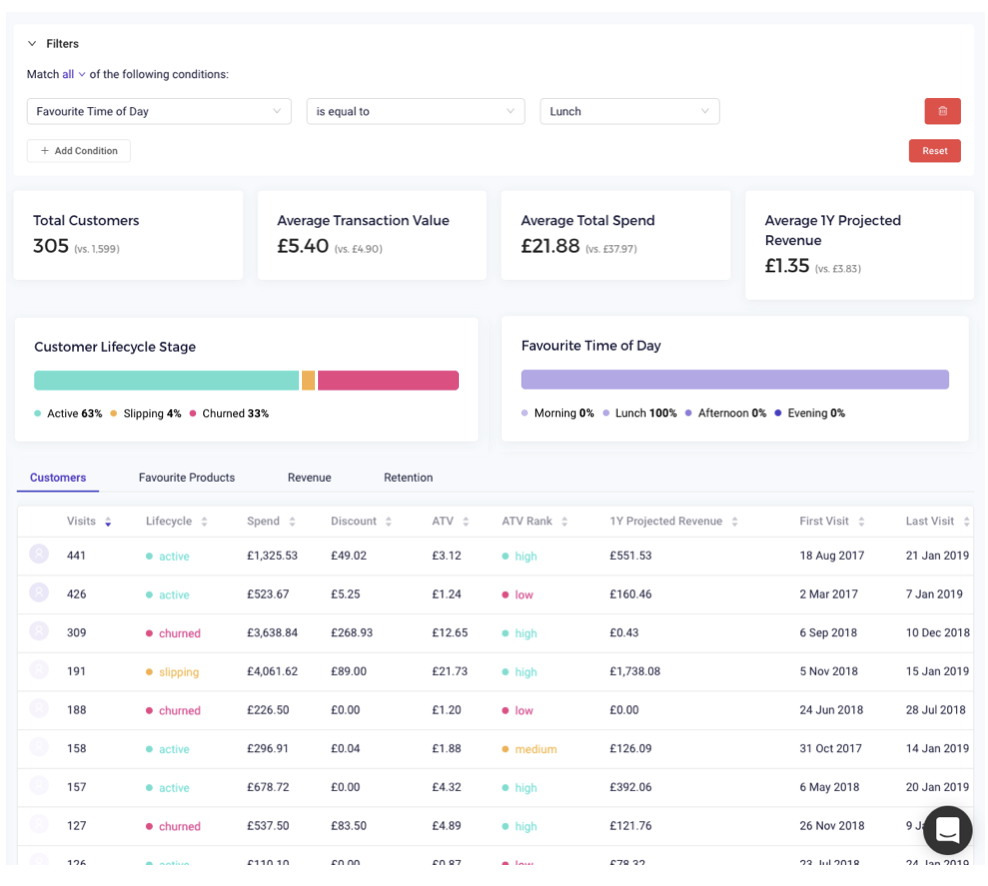 You can also add multiple attributes to a segment to really hone in on defining a group behaviour. Take note of the 'any' vs 'all' toggle.
For example - You want to send a Product Push campaign for a new high-end lunch item to customers who satisfy all (or any) of the following criteria:

This would give you a result that would look something like this: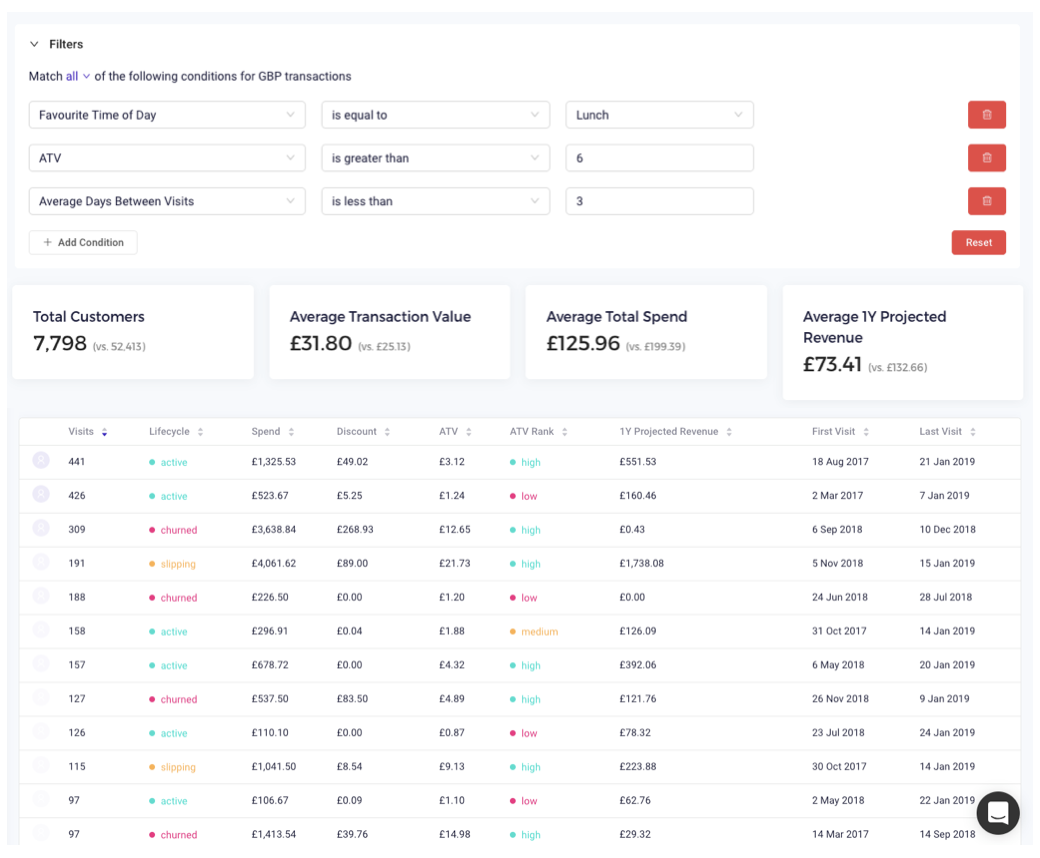 What else can I filter?
We've provided you with 51 attributes (😱) to choose from, but that's just the tip of the iceberg.
We're going to be continually developing what you can filter your customers by to ensure you can target your customers based on pretty much every behaviour possible.
--------------------------------------------------------------------------

*What is a Customer Lifecycle Stage?
We define each customer as either 'Active', 'Slipping' or 'Churned'.
We use a statistical model of user behaviour, which can accurately predict whether a user will ever return to make a purchase.
Active = Highly likely to return
Slipping = Less likely to return
Churned = Highly unlikely to return.

Yoyo's model calculates the lifecycle of each customer on an individual basis. For example, a customer who visits your store on a weekly basis will have a different churn rate to a customer who visits daily.

**What is Customer Lifetime Value (CLV)?
CLV is a metric that predicts what the total value of an individual customer will be with a retailer. Yoyo calculate CLV in real time by predicting the revenue each customer will generate over the next 12 months. We take into account three key factors:
Recency
Frequency
Transaction value