CONFIDENTIAL © Yoyo Wallet Limited 2017

Yoyo Engage provides you with an unprecedented glimpse into the buying habits of your customers.
It also enables you to devise and execute segmented marketing campaigns that will deliver against your business goals.
Our platform enables you to:
1. Identify your customers
Yoyo identifies a customer at the point of purchase and connects them to their transaction and basket data. This transforms your formerly anonymous footfall into customers you can identify and target.
Yoyo enables you to understand collective behaviours and uncover powerful insights through segmentation. Your customer base can be segmented into different variables including:
Average spend per transaction
By the products they have or have not purchased
Customer Lifetime Value
Find out more on how to create Customer Segments here.
Yoyo not only enables you to accurately measure these KPIs, it also allows you to actively drive their growth via segmented marketing campaigns.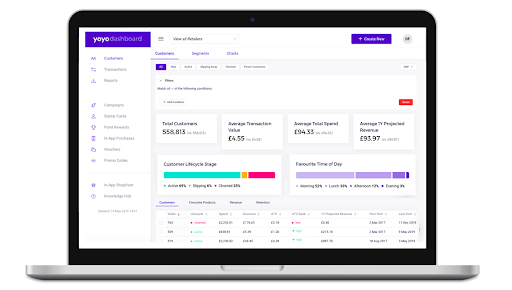 2. Engage your customers
Yoyo's Campaign builder allows you to raise the level of engagement you have with your customers.
In addition to Yoyo's loyalty schemes (Stamp Card Schemes, Point Rewards, In-App Purchases & Automated Discounts), you are able to engage your customers through reward-based campaigns designed to deliver specific outcomes including:
Increase Transaction Value
Drive Visit Frequency
Reward Loyalty
You can also drive spikes of engagement with personalised marketed, campaigns using Yoyo's mobile-first marketing channels.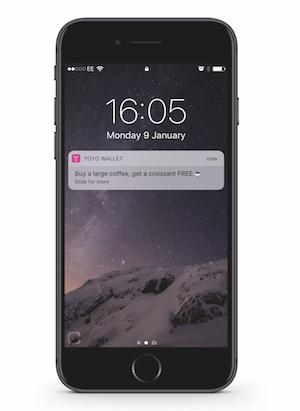 3. Create impact
Get complete visibility of transaction and campaign performance. Track how well your campaigns engage customers and how effectively they achieve your target business outcomes.
Yoyo campaigns can be tracked and analysed on three separate levels:
The open and click rates of communications
The short term behaviour change of targeted customers. For example, did they take part in the campaign?
The long term behaviour change of targeted customers. For example, did the campaign change the way the customer behaved over a month/several months?
TLDR: Check out our Engage Overview Video.
Recommended Reads:
Introduction to Yoyo Wallet
What is a Campaign
Loyalty Metrics
Business Insights